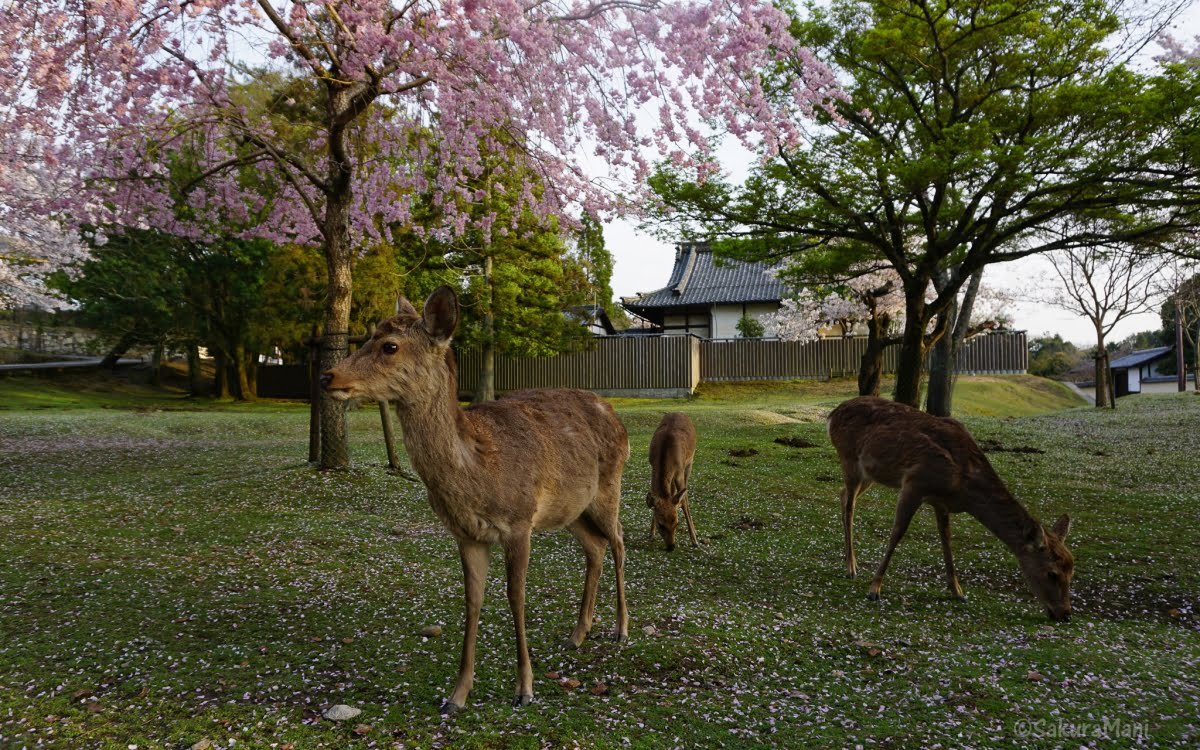 Five cherry blossom viewing destinations in Nara
If you are visiting Nara in spring, you would probably like to visit some spots with many cherry trees. In Nara, cherry blossoms start blooming by the end of March and are best viewed during the first week of April. Make sure to check the weather forecast, as petals might fall off too soon due to strong winds.  Listed below are the five most popular hanami (cherry blossom viewing) destinations in Nara.
Nara Deer Park
Cute deer calves enjoy eating sakura petals from the grass. I can just keep observing them for hours. It is very relaxing to watch those happy deer frolicking in open fields. If you are not ready to go far away from the city, Nara deer park is perfect for a hanami get-together.
Wakakusayama
A few minutes from Nara deer park, Wakakusayama is gradually turning green during the cherry blossom season. I noticed deer herds at the base of the mountain, for the first time. Rows of cherry blossom trees decorate Wakakusayama during spring. Since the weather is mild in April, hiking would be fun on a bright sunny day.
Ukimido
Literally 'ukimido' means a floating pavilion. This place in Nara, could be a little difficult to discover for those who are not aware of it. The gorgeous red maple leaves in Ukimido during autum is a must-see. In spring, beautiful cherry blossoms surround the pavilion. Go for an evening walk around Ukimido during hanami and you won't be disappointed. Direction to Ukimido is indicated by road signs starting from Nara deer park area.
Yamatokoriyama
Every prefecture in Japan has at least one castle, which becomes a popular hanami destination in spring. Koriyama castle in Nara, is only a few minutes walk from the Kintetsu Yamato-Koriyama station. There are small parks outside as well as inside the castle premises. Various stalls are put up during hanami. Koriyama castle is also popular for its night illumination during this season.
Yoshino
The ultimate cherry blossom viewing. Yoshino is described as one of the best places to see cherry blossoms in Japan. Thirty thousand sakura trees are planted over the three ranges of this vast mountain. No photograph can capture the magnificence of 'senbonzakura'. It is only when you are up on the mountain and looking at the 'senonzakura' that your eyes can feel the depth of beauty in Yoshino's cherry blossoms.
I should also make a special mention of Himuro shrine, which is right across Nara National Museum. The earliest blooming cherry blossoms in Nara appear here.